How to write a formal Letter with 4 examples
If you confuse to write a formal letter then you should follow this article to the end. Letter writing is the most useful and essential skill right now. If you are a student then you must learn how to write a letter? If you complete your study then also you need to write a letter for a job. Working in an office you must have to send email and text messages. So everyone has to write a letter. Here we show how to write a formal letter. We also give 4 examples to know the process properly.
A formal letter can be written for various reasons. Here we show you all the topics here with easy processes.
How to write a Formal letter
You should follow the given points strictly to write formal letters. Here we give you the letter format to write a formal letter.
Sender's Address: At first, write the address and contact details of the sender.
Date: Now it's time to give the date under the sender's address.
Receiver's Address: The address of the recipient of the letter.
Subject: Write the subject of your letter.
Salutation: Give a salutation to your recipient.
Body: Now write the whole matter here.
Introduce yourself
Details of the matter
closing
Sender's name and signature.
Types of Formal Letter
Letter writing to the Editor
Letter to the Government
Business letter
Business letter
Application letter for job
Letter to the Bank Manager
Resignation letter
Leave application
Inquiry letter
letter to the police
Complaint letter
Letter to the chairman
Letter to the Principal
Sample to write a Formal Letter
Write a letter to the Principal for School / College fee exemption
Write a letter to the postmaster of the local post office complaining about the faulty delivery of your letters.
1. How to Write a Resignation Letter to the Manager?
As we write before that a resignation letter is a formal letter which an employee writes to the manager to leave from job.
Asim Bhunia
Machine Operator
Township, Haldia
721652
Date: 10/10/2020
To
The Manager
Suman Farm Pvt Ltd
MG Road, Kolkata-700001
Subject: Letter for Resignation
Dear sir,
I would like to inform you that I want to resign from my position as a machine operator at Suman Farm Pvt Ltd. effective from 01/11/2020.
Thank you for giving me the opportunity to work at your company. I am leaving to join as the manager of a logistic company. I have truly enjoyed my work here with this company and also grateful for the encouragement you have given me. But I decided to move to my next challenge that waiting for me.
Next month I will be joining as a manager of a logistics company. It is my dream to work for any company as a manager. I will be happy to be a new manager. I wish you all the best and hope to keep in touch in the future.
Sincerely,
Asim Bhunia
2. How to write an Invitation Letter?
An invitation letter is also a formal letter. This letter is written to invite anyone for any particular occasion. If you are a college student then you can invite your senior for a farewell party. Here we write an example of invitation letter.
Madhusudan Nayak
Township, Haldia
721652
Date: 10/10/2020
To
Pradip Das
Head of the college union
Tamralipta Mahabidyalaya
Pune Nagar Road
Shirur, 412208
Maharastra
Subject: Invitation for college annual function
Dear Sir,
I will be grateful to have your presence at the college auditorium hall on 19th January 2020. We will be honored if you come to the annual function and glow the hall with your warm presence. It is hereby informed that the function will start at 10 am on the given date.
I hope you will able to join the function and spent some time with us. We are waiting for your positive response. Your presence is the most important for us. So please come and join with us.
Thanking You,
Yours Faithfully
Asim Bhunia
3. Write a letter to the Manager of a bank requesting an Educational loan
Write an application to the bank manager is one of the most useful and essential application right now. If you are a student then this letter is useful for you. Follow this application to write a letter to the bank manager.
To,
The Manager
Bank Of India
Tamluk, Purba Medinipur
[Sub: Prayer for an Educational loan]
Sir,
With due respect, I beg to state that, I am Atanu Bhunia, an account holder of your branch who prays you for an educational loan. My account number is ………………. .Now I am a student of a reputed Engineering college. My father is unable to bear the expense of the college. So I earnestly beg you to sanction 1.5 lakhs rupees as a loan. I promise that I will pay the total amount within the due date. I have enclosed the needs of my property as a mortgage.
Therefore I pray you to grant my prayer as early as possible. If you grant my loan within 15 days or early then I will be very quired of you.
Thanking You
Yours Faithfully
Atanu Bhunia
4. Write a letter to the officer-in-charge of your local police station reporting that you have lost your mobile phone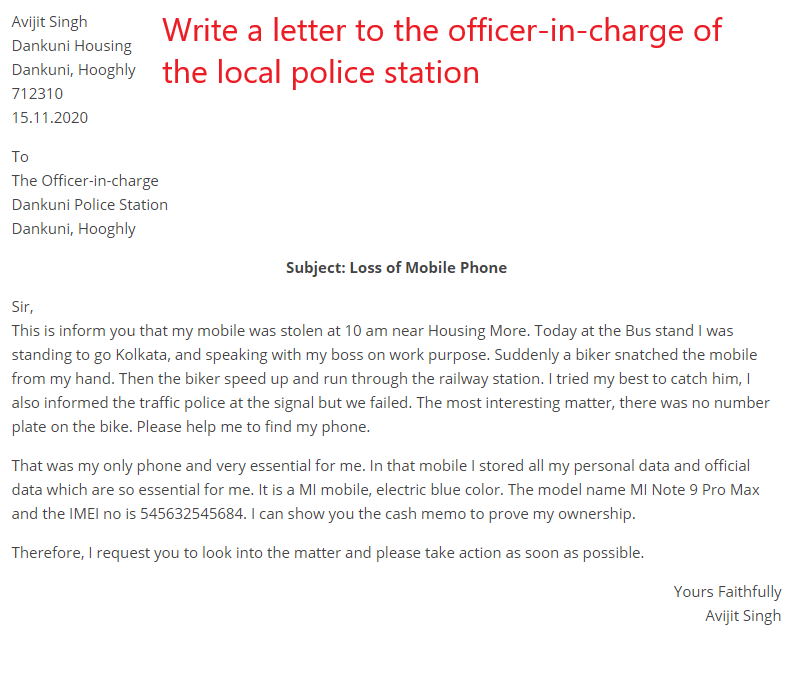 If you lost anything like mobile, motor bike etc. then you should report it first on your local police station. Especially when those things stole by anyone then don't be late to report. Writing an application to the officer-in-charge of the local police station is a formal letter also. But keep it mind that when you going to write these type of application, you must mention the date and time of stole or loss. And also mention the full details of product.
Avijit Singh
Dankuni Housing
Dankuni, Hooghly
712310
15.11.2020

To
The Officer-in-charge
Dankuni Police Station
Dankuni, Hooghly

Subject: Loss of Mobile Phone
Sir,
This is inform you that my mobile was stolen at 10 am near Housing More. Today at the Bus stand I was standing to go Kolkata, and speaking with my boss on work purpose. Suddenly a biker snatched the mobile from my hand. Then the biker speed up and run through the railway station. I tried my best to catch him, I also informed the traffic police at the signal but we failed. The most interesting matter, there was no number plate on the bike. Please help me to find my phone.
That was my only phone and very essential for me. In that mobile I stored all my personal data and official data which are so essential for me. It is a MI mobile, electric blue color. The model name MI Note 9 Pro Max and the IMEI no is 545632545684. I can show you the cash memo to prove my ownership.
Therefore, I request you to look into the matter and please take action as soon as possible.
Yours Faithfully
Avijit Singh